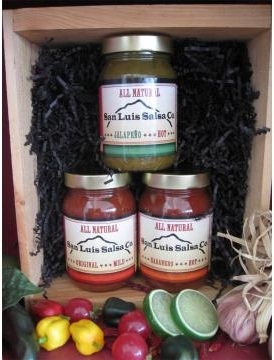 369 Marsh St #100, San Luis Obispo, CA 93401
Too much testing, tasting, and time goes into each and every ingredient to make this just any other salsa. Compiled carefully to bring out the most unique and bold flavor in each of our salsa varieties, we test flavor and consistency rigorously before production. Every member of our team personally taste test them all, and no one holds back their opinions.
About:
Founded in 1997 San Luis Salsa Company has always been local. Raised in San Luis Obispo founder Torri Simons-Holdener has been avid chef since a young age. When she started making salsa for parties, her friends would ask Torri to make it for their get-togethers. Then one friend opened a few stores and asked me if I could put Torri's salsa into their store and make it available to the public. And that's where it all began. Now San Luis Salsa Company is available in national chain grocers, wineries, and gourmet shops.
Community Involvment:
We donate food gift baskets to fundraising clients for a multitude of causes, school, cancer, aids, homeless shelters, to name a few. We provide all the lunches for the SLO Association of Realtors annual fundraiser that benefits 2-3 organizations a year in addition to gift baskets.
Services Offered:
Fresh Salsa
Wholesale Distribution
Cooking Demos
License Number:
Payment Accepted:
Cash
Check
Visa
MasterCard
American Express
PayPal
Parking Situation: