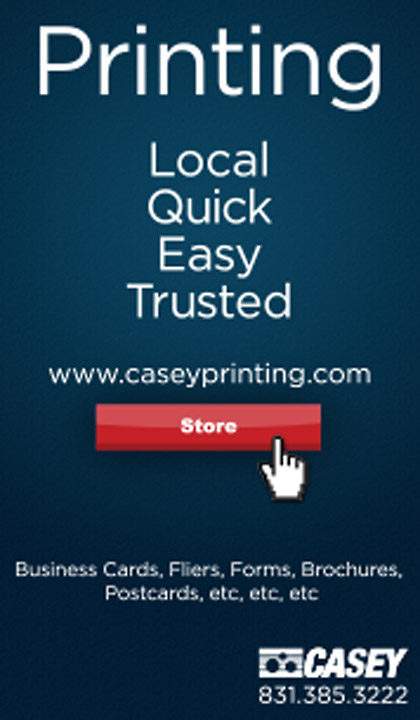 398 E. San Antonio Dr., King City, CA 93930
398e San Antonio Drive
King City
California
93930
US
Casey Printing Inc.
398 E. San Antonio Dr.
King City, CA 93930
Full Description
How we help
With a complete production facility in King City, CA, and sales offices in central and northern California, Casey serves marketers throughout the West Coast.
Print
Utilizing both offset and digital presses, running production shifts around the clock, Casey's skilled craftspeople operate the right mix of equipment to provide the efficient, cost-effective production of catalogs, magazines, directories, brochures, tabloids, booklets, and a variety of packaging items from labels to product inserts.
Digital Marketing
The combination of in-print and online communications maximizes the power of your message and increases your return on marketing investment. Casey builds complex websites and produces multi-channel marketing campaigns (personalized direct mail, combined with email and social media initiatives).
Print Item Management & Fulfillment
With this solution, Casey helps marketers and print buyers protect their brand while managing and ordering print items through a customized, online, print ordering and management website. Quickly order, track and account for a variety of frequently used print items (forms, stationary, business cards, newsletters) from your own corporate branded, online print store.
Customer Service
Casey prides itself on being responsive to customer needs. Members of the sales and customer service team provide both in-plant and on-site coordination of all aspects of print and marketing projects, from price estimates through delivery schedules. Casey even offers customers a highly trained technical representative who is available to provide detailed technical assistance. This is an extremely valuable service considering the complexities of today's ever-changing world of communications.